This is by far my absolute favorite banana bread recipe. There are two things that make this bread unique. First, it has sour cream in it which gives it an extra dose of richness and moisture. Second, the bananas are sliced so you get these big bursts of creamy banana goodness. I use pecans or walnuts, depending on what I have. Lately I've been making individual sized "loaves" using 2 muffin tins. These are just the right size for my kids to have for a snack. I sprinkle the nuts on top rather than mixing into the batter which makes them look pretty and is easy for my daughter to pick off. :)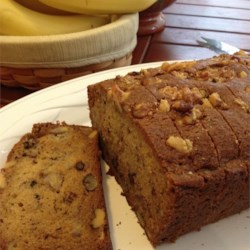 1 c. white sugar
2 eggs
1 teaspoon vanilla extract
1 1/2 c. all-purpose flour
1 tsp. baking soda
1/2 tsp. salt
1/2 c. sour cream
1/2 c. chopped pecans
2 medium bananas, sliced
Preheat oven to 350 degrees. Grease a 9x5 inch loaf pan, mini loaf pan (4 loaves) or 2 muffin tins.
In a large bowl, stir together the melted butter and sugar. Add the eggs and vanilla, mix well. Combine the flour, baking soda and salt, stir into the butter mixture until smooth. Finally, fold in the sour cream, walnuts and bananas. Spread evenly into the prepared pan.
Bake for 60 minutes for a large loaf, 30-40 for mini loaves or 20-25 mins. for muffins. Do the toothpick test to see if they are done for sure. Cool loaf in the pan for 10 minutes before removing to a wire rack to cool completely.