I love pasta salads when the weather gets warmer, and I love asian flavors. This pasta dish fits the bill! It is delicious served warm or cold. If you wanted to make a heartier meal out of it you could add cooked chicken or shrimp.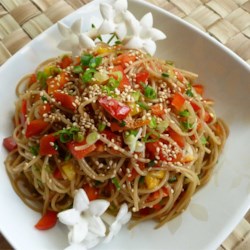 1 (16 ounce) package angel hair pasta
1/2 cup sesame oil
1/2 cup soy sauce
1/4 cup balsamic vinegar
1 tablespoon hot chili oil
1/4 cup sugar
1 tsp. sesame seeds, or more if desired
1 green onion, chopped
1 red bell pepper, diced
Fill a large pot with lightly salted water and bring to a rolling boil over high heat. Once the water is boiling, stir in the angel hair pasta, and return to a boil. Cook the pasta uncovered, stirring occasionally, until the pasta has cooked through, but is still firm to the bite, 4 to 5 minutes. Drain well in a colander set in the sink.
Whisk together the sesame oil, soy sauce, balsamic vinegar, chili oil, and sugar in a large bowl. Toss the pasta in the dressing, then sprinkle with sesame seeds, green onion, and bell pepper. Serve warm, or cover and refrigerate for a cold salad.