I haven't felt at all like cooking lately. Not good for a food blogger, right? I get this way every spring. It's finally warm and sunny outside, my appetite disappears and the last thing I want to do is be inside cooking. But, a family's gotta eat so I whipped this coleslaw recipe up. It's a nice twist on traditional coleslaw. It's got super fresh flavors and is really easy to throw together.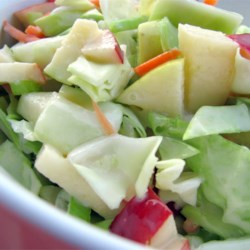 3 cups chopped cabbage
1 unpeeled red apple, cored and chopped
1 unpeeled Granny Smith apple, cored and chopped
1 carrot, grated
1/2 cup finely chopped red bell pepper
2 green onions, finely chopped
1/3 cup mayonnaise
1/3 cup brown sugar
1 tablespoon lemon juice, or to taste
a handful of craisins (optional)
In a large bowl, combine cabbage, red apple, green apple, carrot, red bell pepper, and green onions. In a small bowl, mix together mayonnaise, brown sugar, and lemon juice. Pour dressing over salad. If you can, let it sit a bit for the flavors to work before serving.