If you haven't tried quinoa (pronounced keen-wah) yet, now is the time! It is a great source of protein for vegetarians as it is a
complete
protein, meaning that unlike beans and most other protein sources it has all of the amino acids the body needs in one source. It is also gluten-free. It is super easy to cook and can be used just about anywhere you'd use rice. Even if you aren't vegetarian this is a great pantry staple to have for Meatless Mondays or any time you want a lighter meal. Because quinoa is protein rich, and a whole grain it is really filling. Great for those of us looking to shed a few pounds. :)
This salad is yummy and refreshing. The cranberries give it a pop of color and sweetness and the cilantro is super fresh. If you're not big into cilantro you could substitute another fresh herb. Basil would be amazing! I'm allergic to almonds so I use pecans, but I think you could use any nut you had on hand. I think I might try peanuts next time. I think they'd really be good with the curry flavor.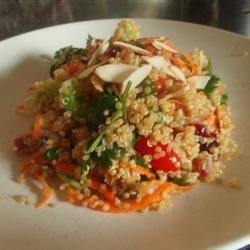 1 1/2 cups water
1 cup uncooked quinoa, rinsed
1/4 cup red bell pepper, chopped
1/4 cup yellow bell pepper, chopped
1 small red onion finely chopped
1 1/2 teaspoons curry powder
1/4 cup chopped fresh cilantro
1 lime, juiced
1/4 cup toasted sliced almonds or other nut
1/2 cup minced carrots
1/2 cup dried cranberries
S & P to taste
Pour the water into a saucepan, and cover with a lid. Bring to a boil over high heat, then pour in the quinoa, recover, and continue to simmer over low heat until the water has been absorbed, 15 to 20 minutes. Scrape into a mixing bowl, and chill in the refrigerator until cold.
Once cold, stir in the red bell pepper, yellow bell pepper, red onion, curry powder, cilantro, lime juice, sliced almonds, carrots, and cranberries. Season to taste with salt and pepper. Chill before serving.