Has anyone else been fighting this horrible crud that has been going around this winter? I caught it the first time around right after Thanksgiving. The day after I had no voice and a horrible hacking cough. No other symptoms, but the cough leaves you drained. I thought I'd finally gotten over it and felt great over Christmas but now it seems like it's back with a vengance! It's not easy to lose one's voice when you teach preschool by day and yoga by night. Luckily all of my students, old and young, are very understanding. The preschoolers think it's hi-LA-rious when I try to sing and the yogis are very gracious, even when I'm hacking up a lung during savasana. The hardest part of the whole thing though is that it seems to be the worst at night so I'm not getting any sleep. That's why I love simple, yummy recipes like this. It keeps us out of the drive-through and you-bake pizza lines and on top of our healthy eating, and I don't really have to think about it much.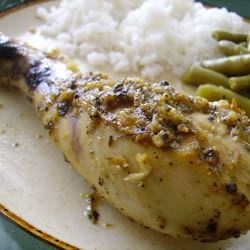 This is a really great chicken recipe to have in your arsenal for easy weeknight dinners. It goes together quickly with really simple ingredients and has a nice fresh flavor. And a plus? Most of the ingredients you should already have in a well-stocked pantry. This chicken goes well with a side of rice or roasted veggies. The original recipe called for chicken legs, but around here we don't like chicken with the bones (or, God forbid, VEINS!) in it so I used breasts that I cut into half so they would cook faster. I'm sure you'd get more flavor with bone-in chicken, but what's the point if no one will eat it?! Do what works for your family.
1
lemon
Preheat oven to 425 degrees F (220 degrees C).
In a 9x13 inch baking dish, grate the peel from 1/2 the lemon, squeeze out the juice (about 1/4 cup) and add to peel with the oregano, garlic, oil, salt and pepper. Stir until mixed.
Remove skin from chicken pieces and discard. Coat chicken pieces with the lemon mixture and arrange, bone-side up, in the baking dish. Cover dish and bake for 20 minutes. Turn and baste chicken.
Reduce heat to 400 F and bake uncovered, basting every 10 minutes, for about 30 more minutes. Serve chicken with pan juices.