When I was a kid living in Arizona we had a pomegranate tree growing in our yard. I remember coming home from school and picking them right off the tree, cracking them open and eating the seeds. Little did I know that the fruit I was eating contained such an abundance of good things for my body.
Pomegranates are chock-full of polyphenals, plant chemicals that are powerful antioxidants. Studies have shown that these polyphenals slow cancer cell growth and actually encourage cancer cells to kill themselves off.
In addition to antioxidants, pomegranates are also anti-inflammatory and can be helpful for arthritis sufferers. The juice has been shown to lower the levels of inflammatory chemicals leading to an abundance of an enzyme in the body that can wear away your cartilage.
Pomegranates are also high in flavinoids. The more flavonoids a person eats the lower the likelihood of develoing dementia and Alzheimers.
Here's a salad that is quick to throw together and looks amazing. Give it a try!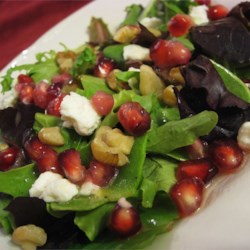 1 (10 ounce) package
mixed baby greens
Place the lettuce, pomegranate seeds, and feta cheese into a large mixing bowl; set aside. Whisk together the lemon juice and zest, mustard, vinegar, olive oil, salt, and pepper in a separate bowl. Pour over the salad and toss to coat. Serve immediately.