BLUEBERRIES
Key Nutrients:
Fiber
Antioxidants
Vitamin C
Iron
Blueberries have more antioxidants than 40 other common fruits and vegatables. Antioxidants help prevent all sorts of things: cancer, heart disease, eye diseases, urinary tract infections and memory loss to name a few. The fiber in blueberries can be a powerful antidote to constipation. Just 1/2 c. of blueberries contains almost 2 grams of fiber, the same as a slice of whole-wheat bread!
Blueberries are delicious in lemonade- just throw a few in a glass and muddle before pouring the lemonade on top. They are also delicious in pancakes and muffins like
these
.
Or, give this recipe a whirl!
BLUEBERRY ZUCCHINI BREAD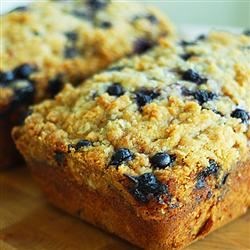 Preheat oven to 350 degrees F (175 degrees C). Lightly grease 4 mini-loaf pans.
In a large bowl, beat together the eggs, oil, vanilla, and sugar. Fold in the zucchini. Beat in the flour, salt, baking powder, baking soda, and cinnamon. Gently fold in the blueberries. Transfer to the prepared mini-loaf pans.
Bake 50 minutes in the preheated oven, or until a knife inserted in the center of a loaf comes out clean. Cool 20 minutes in pans, then turn out onto wire racks to cool completely.
*You can cook this in regular loaf pans, but you will most likely need to increase your cooking time. Or try throwing it in muffin tins for a quick breakfast. If you want to add a streusel topping you can find a recipe for it in the comment section here.