This recipe is one that I found years ago on Allrecipes.com. It sounded a little bizarre because of the odd mix of ingredients (ranch and teriyaki, wha??) but sometimes those are the best recipes, in my opinion so I printed it out and promptly forgot I had it :). I found it last week and decided to give it a whirl...and OMG it is the absolute best chicken I have had in my life and I am NOT exaggerating. If you don't love this chicken recipe there is something wrong with you! I don't know what sort of culinary gods were shining down on the woman that thought this one up, but I wish I could be so lucky! You can find the original recipe
here
. She calls it "Anniversary Chicken" because she made it for her in-laws' 50th wedding anniversary where it was a huge hit. I served ours with a salad and rice to soak up all the wonderful sauce. We even put the leftover sauce over steamed broccoli the next day and it was to.die.for. I really do hope you try it!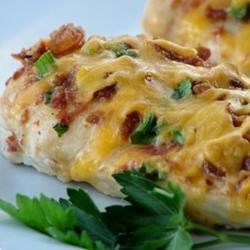 2 tablespoons vegetable oil
6 skinless, boneless chicken breast halves
1/2 cup teriyaki sauce
1/2 cup ranch dressing
1 cup shredded Cheddar cheese
3 green onions, chopped
1/2 (3 ounce) can bacon bits (I use Hormel Real Bacon brand because, well, it tastes like real bacon!)
Preheat oven to 350 degrees.
In a large skillet, heat oil over medium-high heat. Add chicken breasts, and saute 4 to 5 minutes each side, until lightly browned.
Place browned chicken breasts in a 9x13 inch baking dish. Brush with teriyaki sauce, then spoon on salad dressing. Sprinkle with cheese, green onions and bacon bits.
Bake for 25 to 35 minutes, or until chicken is no longer pink and juices run clear.